RIDGID 18-Volt OCTANE Cordless Brushless 1 in. SDS-Plus Rotary Hammer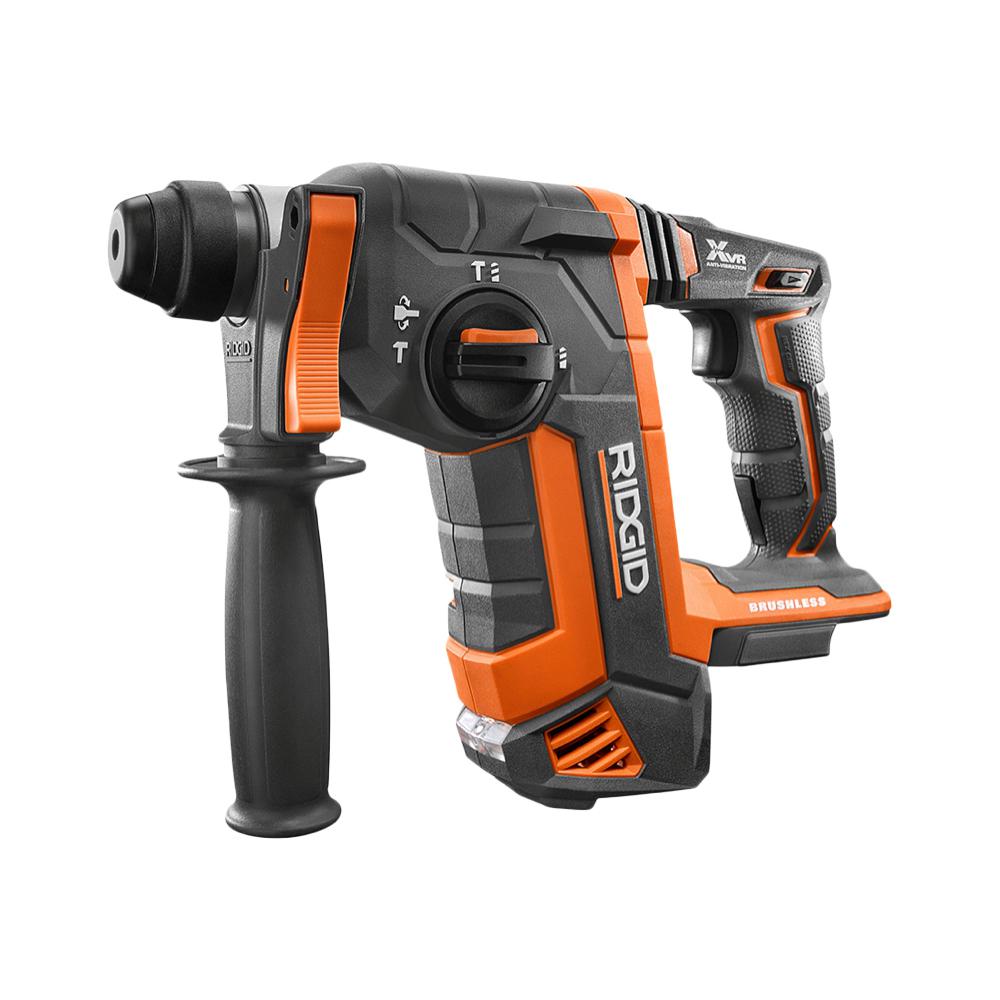 The RIDGID 18v Octane Rotary Hammer is as professional as they come. Blasting through concrete has never been easier as the RIDGID OCTANE Smart Battery send more power to the tool when needed.
What's great about this rotary hammer is that it will allow you to complete a few different tasks. If you want to drill through plastic, wood or metal, no problem as they offer a setting for that. If you want to tear our an old tile floor, no worries as this will accept a chisel that will work in conjunction with the hammering function. If you want to simply blast a hole through concrete with ease, well.... this is the tools for you as it is a speed demon.
The build quality is there, and the anti-vibration that is engineered into the handle is just awesome. I also really liked the adjustable handle which makes this tool ergonomically correct for the user. You simply will not be disappointed with the RIDGID OCTANE Rotary Hammer!
The
18-Volt ONE+ Lithium-Ion Cordless 1/2 in. Drill/Driver Kit (model #
P215K1)
is an awesome little tool for any homeowner, or even someone that is just starting out in the trades which don't have tones of money stashed away. You get a small charger, two (2) batteries and a pretty awesome drill for the price.
All in all, it's not the fastest or most powerful drill on the market, but for the price, you really do get a lot. I highly recommend
this for the typical weekend warrior
If you are looking for some good drill or impact driver bits, you should definitely check out the Ryobi drill and impact bit sets. I just built a deck to our swimming pool using these bits, and they were awesome. very fast drilling, no walking of the bits, and they last though countless holes being placed in treated wood. Whats nice about all of the Ryobi bits is that they com in a nice hard case which will keep water/moisture away from them. Not to mention, they are on sale right now during the Ryobi Days at the Home Depot!
What an awesome light the Dewalt
3000 Lumens 20-Volt Max Tripod Light is. Super bright, but not harsh. This light is great for larger projects on the construction site, and will cover very large areas of illumination with a single light.
Its very easy to use, has a lot of adjustments for height, strength and angle. The other great this about this light is that not only is it very portable, but it can be closed up, carried with a handle and takes up very little space while in storage. Just toss a 20v Max battery in, and it's ready to run for hours on end! Last but not least, they are built to last forever.
Dewalt have been my go to sanders for all of my woodworking, and the new Dewalt 20-Volt MAX Cordless Brushless 1/4 Sheet Sander was just added to the list. If your looking for something that is great for flat surfaces, has a ton of power, super easy to use and has great dust collection, look no further. This sander has a velcro hook and loop systems that keeps the sandpaper in place. You also get a dust collection bag and a paper hole puncher that is super easy to use.
Talk about the best of both worlds. The Dewalt
FLEXVOLT 120-Volt MAX Lithium-Ion Cordless Brushless 12 in. Sliding Miter Saw w/ AC Adapter is just a powerhouse of a saw. Not only is it a smooth cutting monster, it runs off of battery power or 120v. The saw comes with two (2) Flexvolt batteries that will allow you to slice n' dice anywhere you want without needed an outlet. However; if you wanted to, you could use those Flexvolt batteries on something else, and plug the miter saw straight into a power outlet simply buy attaching the included power adapter.
The cuts are extremely smooth, and the power of this saw is simply amazing. The build quality was also very good, and screams PROFESSIONAL! Being able to make
310 cross cuts in 31/4 in. base molding
on a single charge is impressive, but I am going to day that this is probably the best Miter Saw that you can purchase today. It is 100% awesome!
If you are looking for a powerful, well built, professional grade table saw for a bargain price, look no further as the
15 Amp Corded 8-1/4 in. Compact Jobsite Tablesaw offers all of that and more. with a rack and pinion system, this saw allows to to easily glide the saw table to the exact position without breaking a sweat. Once you turn on the power switch, it's go time. The 8-1/4 may not seem like its large and in charge, but just like every other Dewalt saw Iv'e tried, it was a dream to use. Super easy adjustments, smooth cuts and all out professional results. Don't pass this one up!